A common issue with Google Analytics is internal traffic crowding your reports.
The standard way to exclude such traffic from your reporting is by creating a filter to exclude any traffic from known IPs (see here how). While this tactic is great, in times such as COVID-19, with many of the team working from home, managing the IP exclusions is difficult.
One quick way to solve this (to some extent) is by excluding known URLs from reporting to Google Analytics. If you're using WordPress (like I am), you might want to exclude the Preview pages of your posts.
To achieve this we will need to create a simple 'Custom Filter'.
To create a filter, navigate to your account's Admin page.
Select the relevant Account, Property and View
Under the View column, click on 'Filters'
Click 'Add Filter'
Give the filter a descriptive name, e.g. 'Exclude Internal Traffic'
Select the Filter Type 'Custom'
Set the type to 'Exclude'
Set the Filter Field to 'Request URI'
Paste in the value
\?(p=.*|preview=true)
Save the filter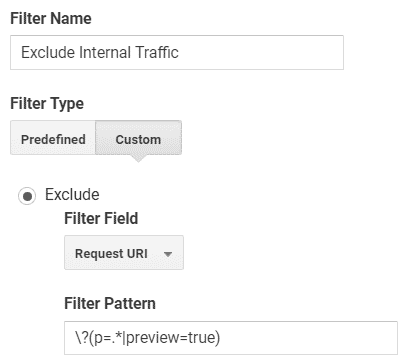 If you're using Elementor, you can also exclude it's preview mode by using the value \?(p=.|elementor-preview=|.preview=true) in your exclusion rule.
(shoutout to Mark Alves for correcting a typo here)
You can also verify your filter before saving to examine how the filter would have impacted your past seven days data.